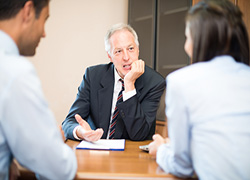 Given the importance of this information, it may be surprising to learn that frequently the vocational expert's testimony is based on unreliable resources. As a result, the Social Security Administration is working on revamping the Occupational Classification System that they use. But in the meantime, it's important for your attorney to understand some of the problems inherent to vocational expert testimony.
The vocational expert is required to give information from reliable sources, and the Administrative Law Judge is required to ensure that this is done. The judge must make sure that the evidence given by the vocational expert is accurate. However, this is frequently not done, so it is important for you or your representative to understand what to look out for when the VE testifies.
First, the vocational expert must have actual sources to back up his or her testimony available upon request. He or she is not allowed to simply rely on his or her "experience." There should be some logic backing the job information provided – you want to know how the vocational expert knows what he/she knows. It is important that you chose an attorney who is experienced in questioning VE's when the need arises.
Many problems arise in connection with vocational expert testimony. VE's sometimes rely upon information that is outdated or incomplete. Also, vocational experts often quote the number of jobs available in the national and state economies for a particular occupation identified. These job numbers are often wrong as they pertain to a group of occupations, many of which are inconsistent with the your limitations. The information provided by the vocational expert about the number of jobs available that you could do, given your limitations, is crucial to the Administrative Law Judge's determination of your disability.
Given this importance, your attorney must be aware of the unreliability of the job numbers cited by the vocational expert. Your attorney must be able to identify the weaknesses of vocational expert testimony and present these weaknesses to the administrative law judge to be considered in connection with his or her decision-making.
For more detailed information on VE testimony, see Mr. Lemoine's article, Crisis of Confidence: The Inadequacies of Vocational Evidence Presented at Social Security Disability Hearings.
If you would like more information regarding vocational expert testimony or anything else related to disability appeals, please contact us at 888-468-3741, send a message; or chat online with a representative any time, day or night.